Everyone trying to launch a career in modeling, acting, music, or the entertainment industry has to start somewhere.
The first step is typically building a portfolio to get discovered, share with potential talent agencies, and explode your presence throughout social media.
Most aspiring talents do this through Trade for Print (TFP) work with collaborative photographers.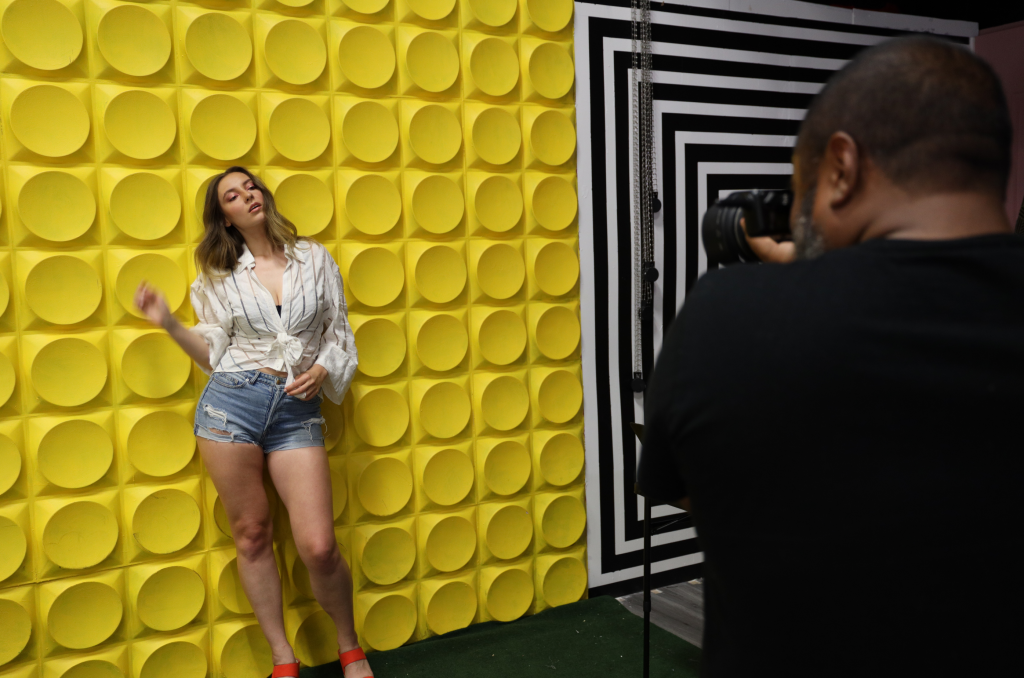 While the vast majority of photographers conduct themselves in a trustworthy, professional manner, sadly there are some who indeed have ill intentions.
Models beware!!
Here are some safety tips for building your portfolio – the do's, don'ts of photoshoots.
1.  When approached by a photographer, check their online profile and portfolio work!  Make sure you understand the style of photography they do (lifestyle, commercial, boudoir/implied/nudes, etc).  Check to see if their models are tagged and given credit in their images.
2.  Check references!  Reach out to the talent that the photographer has previously worked with and ask for their feedback and experience in collaborating with the said photographer.
3.  Do you like another photographer's work and style?  Awesome!  Again, check references of previous talent they have worked with to make sure they are professionally on the up and up.  After you have done your homework, connect with the photographer and discuss opportunities to work with them. 
4.  Make sure both you and the photographer have a clear understanding of the creative vision for the shoot, and what is expected from both parties, including the deliverables following the session.  You should never be pressured to do work that you are uncomfortable with or which goes against your moral convictions.
5.  If at any time you get a "funny feeling" about the photographer, always trust your gut.  It is always better to be safe than sorry.
6.  Always have an escort (friend, significant other, spouse) accompany you on photo shoots.  More often than not, your escort will become the photographer's assistant on the set, helping with lighting and ensuring that you look your very best, but most importantly safeguarding you.
7.  If you are a minor under the age of 18, NEVER negotiate details or attend a photoshoot alone.  Legally, a parent or guardian must work on your behalf regarding all negotiations and attend with you.
8.  During the shoot, at no time should a photographer touch you for any reason without permission.  Direction can absolutely be provided to correct your body positioning or pose for the most flattering look, fixing your hair, making an adjustment to your wardrobe, or fixing your lipstick or a smudge with your makeup.
9.  Actively participate in TFP groups on social media for your local area.  Admins of these types of professional groups are likely to be good resources of knowing which photographers have been flagged for poor business practices and why.
Fortunately, misconduct within the entertainment industry and society, in general, is becoming exposed and no longer hidden behind the curtain. 
For your safety, keep your eyes open to red flag warning signs.
1.  Do not work with any photographer who has hesitation or push back to talent bringing an escort to the shoot and remaining on set for the duration of the session.  Reputable photographers want to ensure that you are safe and feel comfortable.
2.  Photographers should always be giving credit to the talent that they have worked within their portfolio.  Without crediting the collaborating talent, the photographer creates an illusion that they might have something to hide. 
3.  Everyone has to start somewhere, but any portfolio should have some content.  Be extremely cautious of a photographer who has no portfolio work to share.
4.  Be aware of "excuses".  Photographers with ill intent typically are concealing something.  
5.  If discussing the details of a shoot with a photographer starts to raise additional suspicious questions, key in on this internal alert.  Weirdness is a sign that something is not quite right; always trust your instincts.  Ask further questions and get clarification.  If discussions only provoke more questions on credibility, that is not a good sign.
6.  Photographers who make contact or speak with minors directly, discuss collaboration ideas without a parent or legal guardian actively involved in the conversation or encourage talent under the legal age to attend a photoshoot alone.
At the end of the day, be a professional.
Talent, and the collaborative partners that they work with, rely heavily on reputation and quality of work. If you find yourself in a situation and it is not a good fit to collaborate, simply politely decline the invitation and move on. If you have experienced multiple red flags in your conversation about a shoot session, it is your responsibility to alert others to highly suspicious activity to appropriate outlets (i.e. TFP group admins with details about the date/time which the incident occurred, and specifically what happened). However, do not speak poorly or embellish the details of a photographer because one or the other has declined an invitation to collaborate where no ill intention or red flag warnings existed. Your reputation is at stake just as much as the photographer's reputation. In the event that you are at a photo session and the situation takes a turn for the awkward and uncomfortable, most definitely say no and do not hesitate to discontinue the shoot if actions are not immediately corrected.
Most importantly, should inappropriate, harmful behavior or misconduct of any kind transpire, report it immediately to the authorities.
Violating your boundaries, personal space, or causing damage in any way is not acceptable.
Be smart and stay safe.