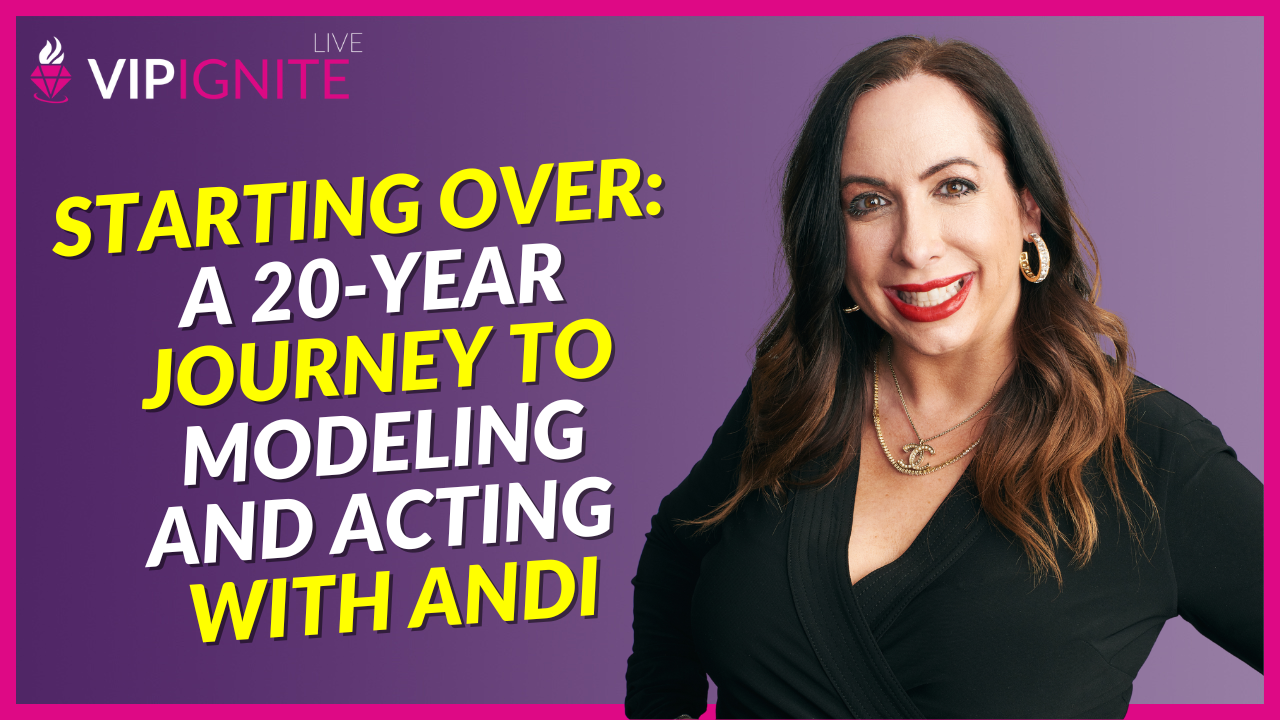 In the latest episode of the VIP Ignite Live Podcast, we had the pleasure of interviewing a talented actor and model who is starting over in the entertainment industry after 20 years. She shared her inspiring journey of how she got into modeling as a teenager and how her passion for modeling and acting was reignited after many years.
It takes a lot of courage to start over in any field, especially in the entertainment industry, which is known for being highly competitive and constantly evolving.
Our guest has shown that with determination and hard work, it's possible to pursue your dreams and achieve your goals, no matter how much time has passed.
One of the key factors that have helped our guest to navigate the entertainment industry is VIP Ignite. As she shared during the podcast, VIP Ignite has provided her with a unique opportunity to connect with top industry executives in tv, film, fashion, and theater. Through their services, she has been able to showcase her talent to some of the biggest names in the industry and gain valuable exposure that can help her to take her career to the next level.
Another organization that has played a crucial role in our guest's journey is Truth Mgmt. They have helped her to grow her personal brand and provided her with the support and resources needed to achieve her goals.
With the help of VIP Ignite and Truth Mgmt, our guest is well on her way to achieving her dreams and making a name for herself in the entertainment industry.
One of the key takeaways from this episode is the importance of having a support system when pursuing your dreams. Whether you're starting over or just starting out, having the right resources, connections, and guidance can make all the difference. VIP Ignite and Truth Mgmt have proven to be valuable partners for our guest, and they can be for anyone looking to break into the entertainment industry.
This podcast is a must-listen for anyone who is interested in modeling, acting, or the entertainment industry in general. Our guest's story is a testament to the fact that it's never too late to pursue your passion and that anything is possible if you're willing to put in the work. The VIP Ignite Live Podcast continues to provide a platform for individuals to share their inspiring stories and valuable insights that can help others to achieve their goals.
In conclusion, we want to thank our guest for sharing her inspiring story with us and our listeners. We wish her all the best as she continues to pursue her dreams and make a name for herself in the entertainment industry. And for our listeners, if you haven't already, be sure to check out this episode of the VIP Ignite Live Podcast and get motivated to chase your dreams!
About VIP Ignite-
Do you believe you've got what it takes to be an actor? Learn the basic patterns from the best in the industry with VIP Ignite. Text stage to 26786 or register for our upcoming webinar here! We are a revolutionary way for both aspiring and experienced talent to learn, get advice, and sit down face-to-face with the entertainment industry's top leading executives, agents, managers, casting directors, producers, A&R executives, Grammy award winners, theatrical agents, top model agents, Tony winners, and both Emmy and Academy award winners. Visit our website, call us at 215-322-8200, or email us to get advice on cultivating genuine relationships with industry professionals TODAY!
"We help transform ordinary people to extraordinary individuals." – Deneen White