I follow my dreams, not people. — Jérôme Lamaar , The Style Monk
Jerome is a polymath. He is a creative strategist & director, futurist, costume designer, streetwear expert, and color expert.
Jerome has built a strong perspective on art, culture, fashion, food, urban development, and technology.
In 2001 he began his career. At age 15, Jerome with his 130 IQ, landed his dream job working directly with Kimora Lee Simmons as a designer & junior creative director for the popular brand Baby Phat lifestyle brand all before entering the fashion institute of technology.
Later, he apprenticed for the American couturier Chado Ralph Rucci. At 25 years old, LaMaar was recruited by Promostyl Paris as a design, color, and trend forecaster traveling the world for trend inspiration and consulting brands. Brands such as Tommy Hilfiger, Samsung, Swarovski, Uniqlo, Essie, Nike, Hanes, Columbia, Adidas outdoor, champion, Maybelline, Mattel, Givaudan, Calvin Klein, Fisher-Price, Victoria's Secret, Microsoft, Adidas, Hasbro, Proctor and Gamble vans, Converse, and many more.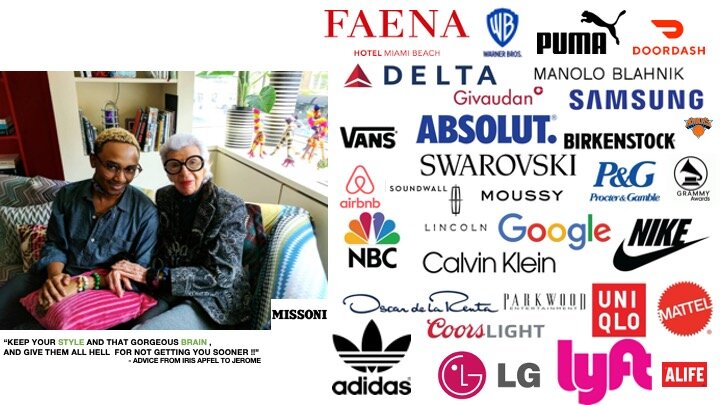 In 2013, Jerome LaMaar launched 5:31 Jerome, a playful luxury streetwear collection which fused Jerome's love for embellishments, maximalism, glamour, and south Bronx street-style into what he calls "Street Glam". The brand received accolades from the New York Times, Elle Magazine, Vogue, Teen Vogue, WWD, Style.com, Fashionista, and Refinery29 as a brand to watch and "the next big thing."
Celebrity supporters include: Beyonce, Hailey Baldwin-Bieber, Kelly Rowland, Tina Knowles-Lawson, Swizz Beatz, Alicia Keys, Angela Simmons, Ingrid Burley, Iris Apfel, Rihanna, Sza, Kim Kardashian, Serena Williams, Mariah Carey, Mary J. Blige, Sarah Brightman, Missy Elliot, Jay-Z, and Taraji P. Henson, and many more.
The brand has now switched to custom only as it requires craftmanship and time. This model is key for sustainability.
2015, staying true to his roots and love for the Bronx, Jerome has pioneered an arts & culture movement in the Bronx by opening his design and retail pop-up concept store in the Mott Haven neighborhood in the South Bronx, named 9J. 
While curating the space quarterly full of new designers, antiques, and creative concepts found around the globe, he gave way to a new image of the Bronx. Artists, designers, and professionals all flocked there for a non-judgment, creative environment. Defining the term he created, South Bronx Luxe. The space has been selected as the Space of the Week 2017, The Cut, Elle Decor, this attention drew the acknowledgment of Ace Hotel where Jerome was invited as an artist in residence.
In April 2017, Jerome officially defined his term by holding the first-ever pop-up shop within the Missioni Madison Avenue store. It sparked a creative movement in the Bronx, landing Jerome on the cover of the Sunday Style Section of the New York Times.
After returning to Fashion Week and showing his capabilities through multiple collaborations in various industries at Tumblr's headquarters in New York, Jerome partnered with Google, Warner Bros, Philips Sonicare, LG, Lyft, The Grammy's, Red Bull, Faena Hotel, D'Usse, Nike, The Knicks, Squarespace, Pinterest, Puma, and many more. Lamaar has also executive produced content for Uniqlo and became the source of inspiration for Scholastic's best-selling book, the Word Collector.
2019, Beyoncé pulled him back into design after wearing a custom design to the announcement of her partnership with Adidas during Coachella. He has contributed to the global launch of the 2020 Ivy Park and Adidas partnership for Beyoncé.
His vision is to connect the creative process between various industries through creativity, work ethics, spirituality, and authenticity to empower creatives to take more risks in design and technology for a more dynamic future.
"Successful people always know successful people." – Alycia Kaback
Citation Information
Article Title: Jérôme LaMaar , The Style Monk
Author: Editors, www.JeromeLaMaar.com/
Website: https://www.jeromelaMaar.com/