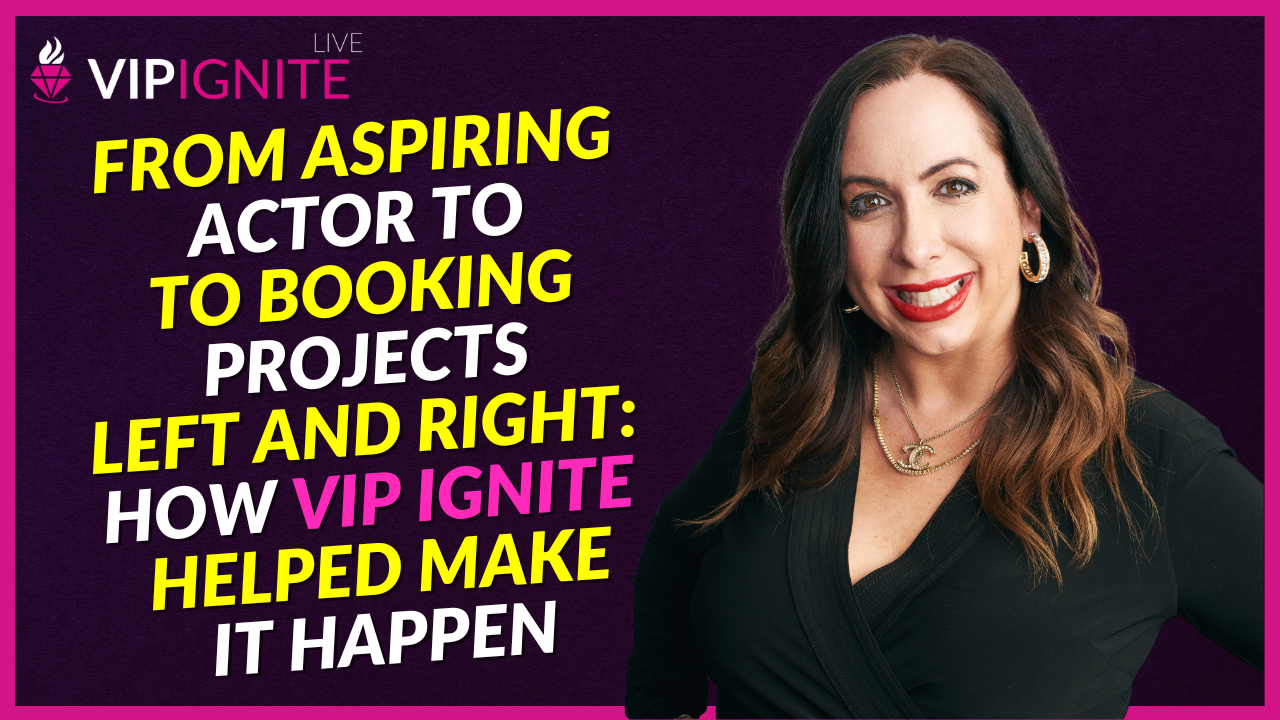 In the entertainment industry, aspiring actors, models, and musicians face a challenging road to success. The competition is fierce, and it can be challenging to know where to turn for the guidance and connections needed to break through. That's where VIP Ignite comes in – a company dedicated to empowering talent and connecting them with industry executives to help them achieve their dreams.
On the VIP Ignite Live Podcast, we recently had the pleasure of interviewing a talented actor and model who credits his success to the invaluable connections and knowledge gained through VIP Ignite.
He shared his inspiring journey from aspiring actor to booking projects left and right, all thanks to the opportunities provided by VIP Ignite events.
One of the keys to success for this actor and model was the connections he made at a VIP Ignite event, where he was signed by a major agency. This gave him access to some of the biggest names in the entertainment industry, including HBO, Disney, Vogue, and Netflix. He spoke about the doors that opened for him after signing with the agency and the many projects that he's had the opportunity to work on since then.
But it's not just about the connections – the actor and model also emphasized the importance of the knowledge and resources provided by VIP Ignite. He discussed the invaluable guidance and advice he received from industry experts, as well as the mindset transformation that he experienced with the help of VIP Ignite.
One of the most significant takeaways from this episode of the VIP Ignite Live Podcast was the transformative power of mindset. The actor and model shared how he was able to shift his thinking and approach to the entertainment industry, allowing him to achieve his goals and make his dreams a reality. This is something that VIP Ignite and Truth Mgmt are helping artists with every day – empowering them to believe in themselves and their abilities, and to approach their careers with a positive and confident mindset.
Overall, this episode of the VIP Ignite Live Podcast was a powerful reminder of the importance of connections, knowledge, and mindset in achieving success in the entertainment industry.
It's clear that VIP Ignite is making a difference in the lives of aspiring actors, models, and musicians, and we can't wait to see what they will achieve in the future. If you are an aspiring artist looking for guidance and opportunities in the entertainment industry, then be sure to tune in to the VIP Ignite Live Podcast for inspiring stories and valuable insights.
About VIP Ignite-
Do you believe you've got what it takes to be an actor? Learn the basic patterns from the best in the industry with VIP Ignite. Text stage to 26786 or register for our upcoming webinar here! We are a revolutionary way for both aspiring and experienced talent to learn, get advice, and sit down face-to-face with the entertainment industry's top leading executives, agents, managers, casting directors, producers, A&R executives, Grammy award winners, theatrical agents, top model agents, Tony winners, and both Emmy and Academy award winners. Visit our website, call us at 215-322-8200, or email us to get advice on cultivating genuine relationships with industry professionals TODAY!
"We help transform ordinary people to extraordinary individuals." – Deneen White