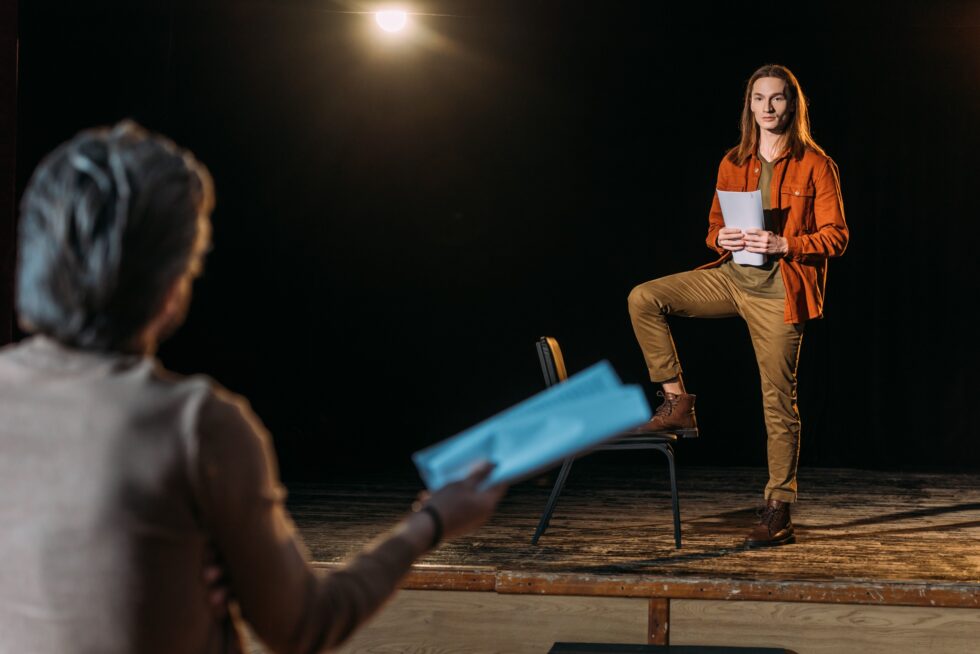 Are you about to head into an audition? You might be feeling nervous and hoping for the best, but there's no doubt that being prepared is the key. And many of us wonder what casting directors look for in auditions. 
Well, we've got the answer: they are looking at six specific things! In this blog post, we'll break down each one. So come along as we explore what goes into making a successful audition.
Confidence
Having confidence is a key factor for success in your auditions. Casting directors want to trust that you believe in yourself and can take direction without getting flustered. They also want to see that you have faith in the talent and skill set you bring to the table.
Show them that you have done your research, taken initiative, and trust that your abilities will lead you to success on stage or screen. Be ready to showcase your talents with ownership and enthusiasm — they'll appreciate it!
Preparation
While auditioning, being well-prepared can be the make-or-break factor for an impressive performance. It's crucial to know all your lines, practice as much as you can, and work on any relevant skills before the day of the audition.
Develop a strong understanding of what they expect in the role and project confidence. Doing research beforehand and taking risks when appropriate are great ways to give yourself the best chance of securing a starring role.
Professional preparation gives you an edge, setting you apart from other performers who may not have taken the same steps. Take a deep breath, and remember that no one knows the material better than you!
Acting Skills
Having the right acting skills is key when attending an audition. Being able to take direction and embody a character's demeanor goes a long way, as this will ensure casting directors that you can bring the required performance to their project.
Having the ability to deliver lines with emotion and intonation is essential for a successful audition. Casting directors will look for actors who understand what it takes to fully submerge in the role and bring life to every line. Show them you have what it takes to get one step closer to your dream role!
Professionalism
Professionalism is a key trait that casting directors look for when auditioning actors. Having the ability to handle tricky or stressful situations gracefully and effectively is essential in acting, and casting directors want to ensure that the actors they choose will bring this quality to their roles.
Professionalism is important not just on screen, but also behind the scenes and on set, where it's important for actors to be prepared, punctual, and polite throughout the process.
Knowing how to act professionally in all facets of your work as an actor can help you stand out in auditions and give you a better chance at getting a casting director's attention.
Flexibility
One of the most important qualities that casting directors look for is flexibility. Having the ability to adjust quickly and easily during an audition is essential for success.
Whether it be because something didn't go as planned, or if the casting director asks you to do something differently, having the willingness to switch gears on the fly will demonstrate your professionalism and dedication to the role.
Being open-minded and prepared with multiple ideas is key to capturing a great performance and impressing casting directors.
Personality
Personality is key during auditions and having a great one can make or break your success. Casting directors are looking for performers who bring positive energy into the room and also serve as easy people to work with; a vibrant and reliable attitude can help boost your performance and give casting directors more of an incentive to work with you.
Great personalities are attractive to casting directors because they want the best atmosphere with their projects, and that starts with the backing team. Showcase your best self, be humorous if you can, and be sure to have an upbeat demeanor, so casting directors see you in a great light!
We've covered a lot of information on what casting directors are looking for in auditions, but above all else, have fun when you're auditioning! With these tips and lots of practice, you should be well-equipped for your next big break.
Want more tips on how to get your next big break? Join our next acting and modeling boot camp — it will leave every aspiring actor or model with the right tools and knowledge needed to succeed!
About VIP Ignite Live-
Do you believe you've got what it takes to be an actor? Learn the basic patterns from the best in the industry with VIP Ignite. Text stage to 26786 or register for our upcoming webinar here! We are a revolutionary way for both aspiring and experienced talent to learn, get advice, and sit down face-to-face with the entertainment industry's top leading executives, agents, managers, casting directors, producers, A&R executives, Grammy award winners, theatrical agents, top model agents, Tony winners, and both Emmy and Academy award winners. Visit our website, call us at 215-322-8200, or email us to get advice on cultivating genuine relationships with industry professionals TODAY!