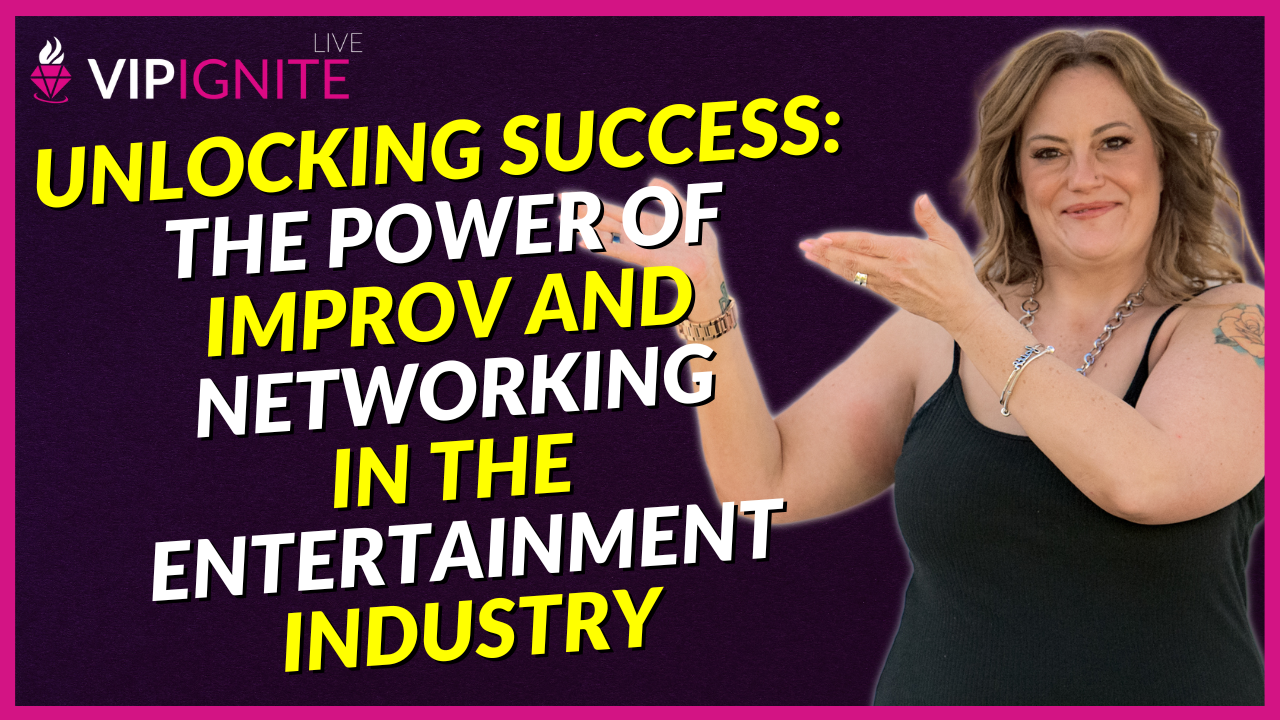 Welcome to The VIP Ignite Live Podcast, where we delve into the captivating world of entertainment and bring you inspiring stories of individuals who have achieved remarkable success. In this episode, we had the privilege of interviewing Tony, an exceptional actor, model, and musician. Tony takes us on a captivating journey, shedding light on the significance of improv and interpersonal skills in various industries. Join us as we explore Tony's positive experience at a VIP Ignite networking event in Los Angeles and his subsequent signing with Envy Model Management, thanks to the invaluable connections forged through VIP Ignite and Truth Mgmt.
Unleashing the Power of Improv:
During our conversation with Tony, he passionately emphasizes the transformative power of improv and its role in shaping successful careers. As an actor, model, and musician, Tony recognizes that strong interpersonal skills, coupled with the ability to listen and respond effectively, are essential in establishing genuine connections with both industry professionals and audiences alike. Drawing from his own experiences, Tony reveals how improv has become a driving force behind his accomplishments in the entertainment industry. With renowned directors such as Martin Scorsese embracing improv to infuse authenticity into their projects, Tony emphasizes that this valuable skill set can open doors and pave the way for extraordinary opportunities.
The VIP Ignite Networking Event:
Tony's story takes an exciting turn when he shares his incredible experience at a VIP Ignite networking event held in the vibrant city of Los Angeles. At this event, Tony had the incredible opportunity to interact with industry representatives, including agents, managers, and casting directors. The event was a unique platform that brought together talented individuals like Tony and key players in the industry. What set VIP Ignite apart was their commitment to connecting aspiring artists with professionals actively working in the field. This ensured that the knowledge shared and the connections made were up-to-date and relevant in an ever-evolving industry.
Seizing the Moment:
Among the industry professionals Tony had the pleasure of engaging with was Russell Frank from Envy Model Management. Despite initially missing the chance to speak with him due to the overwhelming demand, Tony's talent and professionalism caught the attention of Allie, a representative from VIP Ignite. Allie recognized Tony's potential and personally introduced him to Russell, resulting in a pivotal meeting. Tony's charisma, combined with his passion for his craft, left an indelible impression on Russell, leading to a life-changing contract with Envy Model Management as a commercial print model. This remarkable opportunity solidified Tony's belief in the power of networking events and the importance of making lasting connections with industry insiders.
VIP Ignite and Truth Mgmt: Empowering Artists for Success:
The partnership between VIP Ignite and Truth Mgmt serves as a catalyst for success in the entertainment industry. By providing aspiring actors, models, and musicians with unparalleled access to industry insiders, VIP Ignite and Truth Mgmt enable individuals like Tony to thrive in their respective careers. Through their network of connections, mentorship, and valuable insights, VIP Ignite and Truth Mgmt empower artists to unleash their full potential and seize the opportunities that come their way.
Join us on The VIP Ignite Live Podcast as we unravel the incredible journey of Tony, a multifaceted artist who has discovered the true power of improv and interpersonal skills. Tony's inspiring story showcases the impact of networking events and the doors they can open in the entertainment industry. We invite you to tune in and learn from Tony's experiences as he shares invaluable advice, anecdotes, and insights into his transformative journey. Together with VIP Ignite and Truth Mgmt, let us ignite your passion for success in the dynamic world of acting, modeling, and music.
About VIP Ignite-
Do you believe you've got what it takes to be an actor? Learn the basic patterns from the best in the industry with VIP Ignite. Text stage to 26786 or register for our upcoming webinar here! We are a revolutionary way for both aspiring and experienced talent to learn, get advice, and sit down face-to-face with the entertainment industry's top leading executives, agents, managers, casting directors, producers, A&R executives, Grammy award winners, theatrical agents, top model agents, Tony winners, and both Emmy and Academy award winners. Visit our website, call us at 215-322-8200, or email us to get advice on cultivating genuine relationships with industry professionals TODAY!
"We help transform ordinary people to extraordinary individuals." – Deneen White