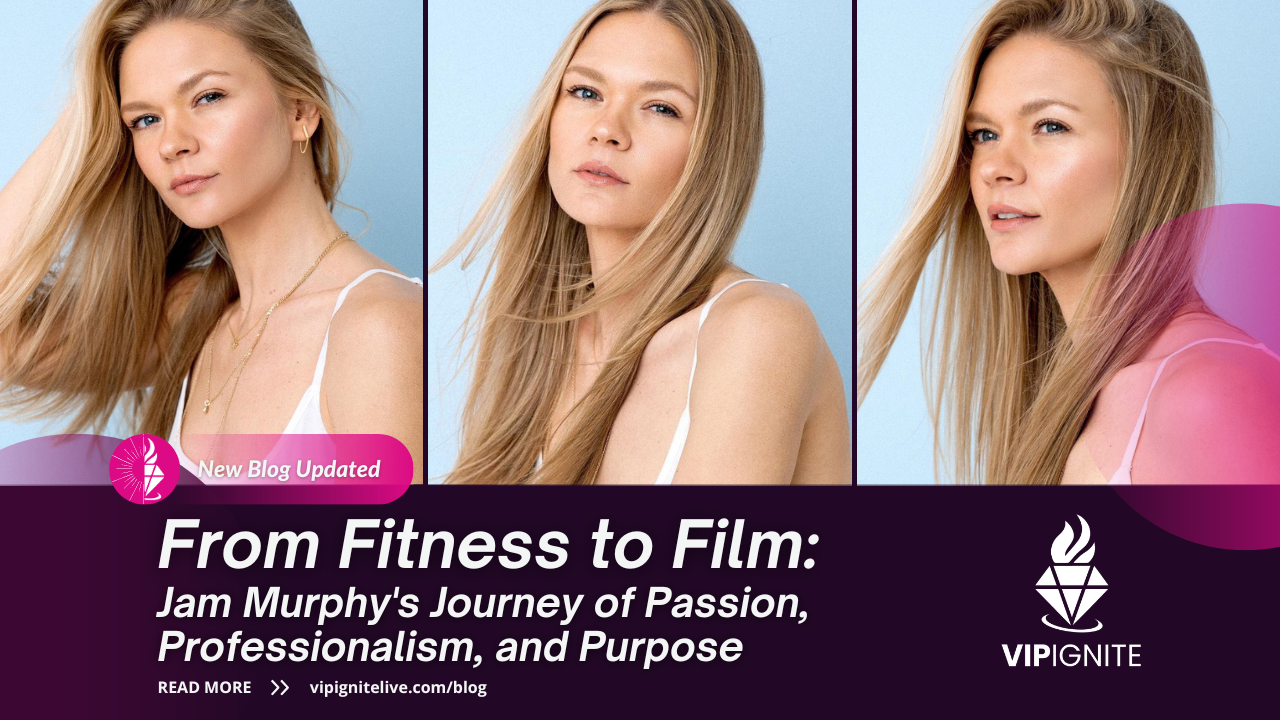 The entertainment industry is a vast, unpredictable cosmos that is ever-evolving. Every actor, model, and musician has a unique story to tell, a journey paved with challenges, triumphs, and valuable lessons. In the latest episode of The VIP Ignite Live Podcast, we had the pleasure of sitting down with Jam Murphy, a multi-faceted talent who epitomizes the adaptability and passion essential for thriving in this industry.
A Serendipitous Shift: From Fitness to Fame
Our conversation started with Jam's initial career as a personal trainer in the sun-soaked streets of Los Angeles. While fitness was her forte, destiny had other plans. A chance encounter with a casting director looking for trainers for a reality show presented an unexpected fork in her career path. Although she didn't get the reality show gig, it led her to an unexpected scouting opportunity which catapulted her into the world of modeling.
Her subsequent move to New York wasn't just a geographic transition but also one that saw her metamorphose into a sought-after model with the prestigious Wilhelmina Models. For many, landing a spot with such an esteemed agency would be the pinnacle of success, but for Jam, it was just the beginning.
From Modeling to Movies
In our podcast, Jam described how her modeling experiences were incredible but came with a realization that she yearned for more. She felt an intrinsic desire to use her voice, not just her visage. This realization led her to the world of acting. It was a heartening revelation to learn about her landing a lead role in the feature film "Target." This transition from model to actor was not without its challenges. But as Jam emphasized, professionalism and adaptability were her guiding stars, ensuring she stayed afloat and excelled.
The Importance of Adaptability
One of the salient points of our conversation was the importance of adaptability in the entertainment world. The realm of entertainment, be it for an actor, model, or musician, is rife with unpredictability. Lighting changes, last-minute costume swaps, script revisions – these are just the tip of the iceberg. Jam's insights on how she dealt with these ever-present changes were enlightening. She shared her perspective on seeing these challenges not as hurdles but as opportunities for growth and learning. Her time with Truth Mgmt further honed this adaptability, equipping her with skills that she generously imparted to our listeners.
A Passion for Coaching
The latter part of our conversation transitioned into Jam's current passion – coaching. Having journeyed through the myriad avenues of entertainment, she is now channeling her experiences and insights to guide budding talent. VIP Ignite has always been a platform to champion emerging talent, and learning about Jam's dedication to nurturing the next generation resonated deeply with our ethos. She articulated how she wishes someone would have given her the guidance she's now offering, making her coaching all the more heartfelt and genuine.
For many aspiring talents, the entertainment industry can seem like an insurmountable mountain. However, with mentors like Jam, equipped with real-world experience and genuine passion, that mountain becomes a climbable hill.
In Conclusion
The VIP Ignite Live Podcast always strives to bring stories that inspire, motivate, and educate. Our conversation with Jam Murphy was a testament to this mission. Whether you're an established actor, an aspiring musician, a budding model, or someone keenly interested in the behind-the-scenes world of entertainment, Jam's journey offers invaluable lessons.
From her unexpected departure from personal training to her successful stints in modeling and acting and her current dedication to coaching, her story underscores the importance of passion, adaptability, and continual learning. We extend our heartfelt gratitude to Jam for sharing her odyssey with us and our listeners.
To catch this enlightening conversation and many others, tune into The VIP Ignite Live Podcast. Whether you're seeking inspiration or industry insights, there's something for everyone!
About VIP Ignite-
Do you believe you've got what it takes to be an actor? Learn the basic patterns from the best in the industry with VIP Ignite. Text stage to 26786 or register for our upcoming webinar here! We are a revolutionary way for both aspiring and experienced talent to learn, get advice, and sit down face-to-face with the entertainment industry's top leading executives, agents, managers, casting directors, producers, A&R executives, Grammy award winners, theatrical agents, top model agents, Tony winners, and both Emmy and Academy award winners. Visit our website, call us at 215-322-8200, or email us to get advice on cultivating genuine relationships with industry professionals TODAY!
"Excel your career to levels you did not even know exists." – Deneen White