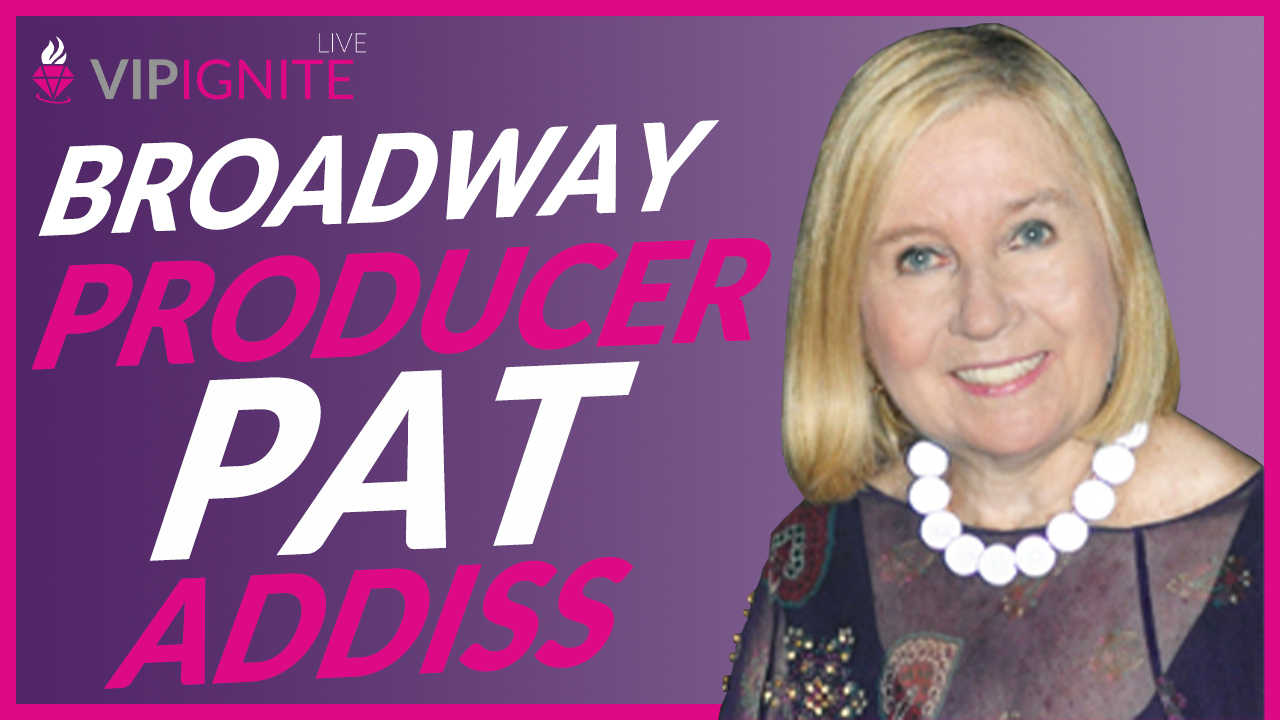 Deneen: Welcome to the VIP Ignite podcast. 
I'm your host, Deneen White.
Today I am so excited to have Broadway producer Pat Addiss on the show, and I cannot wait for you guys to hear her story.
Hi Pat!
Thank you so much for joining me today.
Pat: Thank you Deneen.
It wasn't an easy seat with my phone this morning.
Anyway, I'm so glad I'm here!
Deneen: I'm so glad you're here too.
I've been looking forward to this podcast for quite some time.
Pat: So what would you like me to talk about?
Deneen: First, I would like you to introduce yourself to our audience a little bit, and let us know how you got your start on Broadway.
STARTING A LONG LOVE FOR BROADWAY
Pat: That's a little long but just cut me off when you want!
I ran a promotion company for 30 years, and the short story is I gave it to my daughter so I could produce Broadway plays.
That's not as simple as it sounds.
Believe me, I have found that out the hard way, but I did take a course called Commercial Theater Institute, formally known as CTI.
They give you an overview of all the parts of producing.
Then I took the special course where they only allow 25 people, and you come out thinking you knew everything actually knowing nothing.
Basically, the most important thing is to have contacts, and you can't have contacts overnight.
You just don't.
A woman who was in the course with me asked me if I wanted to produce Little Women with her and I said I didn't know.
I went down to the Duke and I saw Little Women with Sutton Foster, and I've never looked back.
That was 20 shows later, plus a lot of other things that I do, events and things.
I'm doing one on Monday, not to digress, but it's very exciting.
I am co-producing Broadway Blessing, which is at St. Malachy Church.
So if anybody's hearing, you come Monday, September 16, and it's free and fabulous.
Doors open at 6:30.
I strongly suggest everybody get there as close to six as possible because it's going to be a mob scene.
Chita Rivera is going to do a special tribute to help Prince and we have an amazing roster of people.
90 minutes long, and then you get a free reception too!
Anyway, that's what I'm working on right now, which I don't put on my credit.
Little Women was my first show.
Chita Rivera, The Dancer's Life was my second show, and then I have Bridge and Tunnel, Spring Awakening, Passing Strange, The 39 Steps, Vanya and Sonia and Masha and Spike. 
Which one?
I have a Tony.
Then A Christmas Story, which was nominated for three Tony awards and it was the only holiday show that's ever been nominated for a Tony.
You can see A Christmas Story all over America in November and December.
It comes back every year, like a wonderful gold penny.
Right now I'm most excited about my show, Desperate Measures, which won the Drama Desk Award last year at the Outer Critics Circle.
It is having its first incarnation at Winter Park, Florida coming September 21st, and I'm flying down for it.
I'm very excited to see the show again!
Another digression, our cast was the most wonderful cast ever, and we just had a reunion yesterday at Sardi's.
It's so nice to see a love fest.
That's exactly what they are, the whole team; they just love each other and are so wonderful.
Anyway, that's my story.
Basically, I've done all kinds of interesting shows, including Eclipsed, which was about five Liberian raped slaves.
Danai Gurira wrote it.
So that was very exciting.
We were up for a lot of Tonys, but lost.
Life goes on.
PASSION AND EXCITEMENT THROUGH HARD WORK
Deneen: So I have a question for you, Pat.
You've won a lot of Tony's, so can you remember what it was like to win your first Tony, and does it ever get old winning a Tony?
Pat: No, it never gets old because it's the excitement of that play at that moment and that play is worthy of a Tony.
The excitement never goes away because each one is a separate entity.
Maybe if I get very blasé, but I don't want to say that.
I don't think I'll ever get that blasé.
I love what I do and I'm very happy with what I do.
It's not necessarily easy, but I love it.
And it's addictive.
Deneen: Yeah, definitely.
Every time I speak to you or hear you speak about Broadway and about what you do, your passion just comes through every time.
It makes me say "Oh, I want to do something on Broadway!"
Your passion for it is just palpable.
It's contagious!
So that's good.
Pat: I don't recommend it for anybody.
Not as easy as it looks.
It's quite difficult, and you have many component parts that sometimes just don't add up for whatever reason.
You can have the best show and they just don't sell tickets.
I mean, Eclipsed should have been much more of a hit than it was.
It was a tough subject matter.
But a lot of people didn't want to see it, so I did of course; it's a love of mourning for something like that to be heard.
A lot of people just want to be entertained.
They don't want to have to think.
It's a difficult thing, and it's very difficult to make money, but it's just worth everything.
When you love what you do, it really is worth everything that you put into it. 
Even if you don't make money, if it's something that you love and something you're truly passionate about, it's almost like a labor of love.
Sometimes it's great, sometimes it's not, but it's always a labor of love.
One of the things that I want the audience to understand is that Broadway is just a very small part of the theater world.
A very, very small part.
It's very important that theater goes out to the entire country and that we raise the bar, and that people know what theater is all about because there's nothing like live theater.
I mean, I cry.
I'm a professional crier!
I just saw a wonderful show about the Beatles of 59, East 59th.
Of course I cry.
My friends say, "Why are you crying?"
It just hit me, you know?
When it hits you, it hits you.
My theater is so grand, and it's important that we build audiences because we'll see kids who can't afford the price of a ticket, but they can afford anything else they want.
They can lose the money to go to a concert.
They just have to be exposed to live theater.
Once you're exposed to live theater, I think you'll have a passion for it.
I started going when I was a little girl.
Deneen: I've always loved live theater.
I grew up in Southern New Jersey and I was fortunate to have a lot of friends that were involved in the theater.
So even my own hometown has this little theater called the Sketch Club Players.
We used to go see shows there a couple times a year.
So I completely agree with you.
Once you have the exposure to live theater, there's nothing like it.
It's just the energy of the actors and the audience.
Everyone is interacting.
There's just something that if you haven't experienced it, it's indescribable.
Once you do, it's addictive.
It's something you want more of all the time.
THE MANY PATHS TO PUTTING YOUR WORK OUT THERE
Pat: Exactly, and there are so many different jobs in the theater.
A lot of people think you must be a star on Broadway.
Get that out of your head.
You're doing it not to be a star.
You're doing it because you love what you're doing and you can do it everywhere.
Even if you go off and have to have a job making money, or get married and have babies, you could start a little theater.
You can help kids.
You could do things in a library.
There's always something you can do.
You can work in a box office.
You can volunteer for many jobs that are needed in theaters across the country.
As I say, you can start your own little theater.
For those who are performers and need to get their work up, there are lots of ways to get to work up.
You don't have to have a theater where you have to raise a lot of money; you can go to your local area or any place that has a meeting hall or even a cabaret or restaurant.
Say, "Well, what's your off day?"
I'll do a performance for you and I'll bring in customers.
That way it's a win-win for the place and it's a win-win for you.
The whole thing is to get your work up no matter how, no matter where, but always be prepared.
That is essential.
You must be prepared because there are a lot of talented people out there and a lot of them are very prepared.
Deneen: We see that too with the coaching program that we do with VIP Ignite.
We've been talking a lot about getting people involved in their local community theaters.
Some people think, "I don't have a community theater."
That's a great option too that I never would've thought of!
You've mentioned that if you don't have a local theater, then there are certainly places that would allow you to put your show on.
Instead of maybe a musical act, put on your show, like you said, in the local cabaret.
I'm sure that there are open mic nights too.
Even that would be a good opportunity to get your work out there, right?
Pat: Sure. Even a school!
High schools, not colleges, but regular schools.
High schools that have an auditorium, or might have.
They'll say, "Well we can't do it."
Then say, "Can I do it as a fundraiser?"
Then you do it as a fundraiser.
In lots of ways you just have to be creative, and people are afraid.
You got to stick your neck out.
You can't be afraid of failure.  You learn from failure.
FINDING SPECIAL MOMENTS THROUGH THE DIFFICULT ONES
Deneen
: Since you said that, what is one
failure
that you've learned from?
Can you share something with our audience?
Pat: You know what, at this moment I'd rather not.
In order to share something, I might have to name a name and I prefer not naming any names.
Deneen: That's totally fair.
Pat: I might add that in order not to get ripped off, you have to have a lawyer, and you have to have things in writing.
I don't mean just for your local cabaret and your local restaurant, but anything that you will start doing professionally.
Make sure you have a contract or something in writing.
It's very important.
Deneen: It is very important because you have to protect yourself.
We talk a lot about that with musicians to make sure that you have contracts.
Make sure that if you've written a piece of work, make sure that it's copyrighted and make sure that it's trademarked so that you have all of the rights to whatever your intellectual property is.
That kind of goes along with what you said.
Make sure that you have everything in writing.
You want to make sure that you're protected, and the other party is protected as well.
Pat: Exactly. You'd be surprised.
People want to cheat you when it comes to money.
Disgusting as it is, it's true.
Deneen: Money makes a lot of people really ugly, unfortunately.
Pat: I had a very nice thing happen to me yesterday.
My co-producer and I gave a reunion party for Desperate Measures and it was a love fest.
They all love each other so much and it was so wonderful seeing everybody so happy, and hugging and kissing and loving.
It's really nice when everything comes together like that.
Desperate Measures was a very, very special show and will always remain very special in my heart above anything I've ever done.
Deneen: What made it so special?
Is that the cast or the script or something else?
Pat: Well, when I saw it at the York Theater, it was owned by a Chinese lady who wanted to close the show after it got bad reviews.
The only way a show stays open is if they perform.
I think it's 21 performances; it might be more, but I think they have to perform at least 21 performances.
So I bought the show from her, and she's a multi-millionaire, but she drove a very hard bargain.
I just love the show so much.
It was the most perfect musical I had ever seen.
Everything was perfect, even the cast.
So I bought her out and I kept it running, and it did win a lot of awards.
It won Drama Desk Awards, Outer Critic Circle, and Off-Broadway Alliance Awards.
Everybody loves the show.
No matter where I go, somebody who's seen it will say "Oh, I love that show!"
I get that all the time.
It's just a fabulous show.
It's funny, and it's clever.
It is a slight take on Measure for Measure.
Shakespeare's Measure for Measure.
So anybody who's a student of Shakespeare will recognize that in the show.
It has a very wonderful ending where the culprit gets punished, and everybody walks out of the theater.
Happy, happy, happy, happy show.
But it's not stupid.
It has a lot of a lot of important things in it.
So we do that and have it funny, and the music is just fabulous.
We have one song that we're doing at Broadway Blessings on Monday.
It's sung by Conor Ryan and written by David Friedman, with words by Peter Kellogg.
It's called, "It's Good to Be Alive."
A young man was going to commit suicide and he confessed this to Lauren Molina, who was in our cast.
He saw our show and he heard "Good to Be Alive" and decided that he was going to live.
That always puts chills through me, and he's still alive to this day.
You never know.
We were talking about live theater, and how this song affected this young man.
This show is just a fabulous show.
It's going to be traveling all over the United States so maybe some of your listeners can follow and see where it's playing.
I'm going out to Winter Park.
It's opening on September 21st, and I'm also going to go to Hawaii.
It opens there on March 17th in Honolulu.
There are a lot of other places in between, so look and stay posted.
Deneen: They'll definitely follow that.
If it comes to Philadelphia, I'll be the first person in line Pat, I promise you.
Pat: The Walnut Street Theater apparently has some interest in it, so hopefully they will do that.
I'd love for the Walnut Street Theater to do it.
Deneen: It's a beautiful theater.
Pat: They did A Christmas Story there a couple of years ago.
I just want to say words of wisdom to any actors, singers, or composers.
Really work at your craft.
Don't be halfhearted about it.
Chris does a lot of talent out there, and if you have talent, it's a shame not to go for it.
You must go for it.
If it's not your passion and it's just to pass a passing fancy, then no.
If it is your passion, you must go for it, because you'll never forgive yourself if you don't.
It's hard work, but it's worth it.
THE CHANGING STATE OF BROADWAY
Deneen: Now, you've been on Broadway for quite some time.
Can you talk a little bit about the way you've seen Broadway change, and the tone of Broadway changing?
Pat: Yes. The way people dress for one thing; people dress like such slobs.
That's one thing.
I think there isn't the proper respect and decorum from people with their phones who are very abusive.
Even though they're told no phones, they think they'll pull a fast one and they'll photograph.
They'll record and sometimes even caught on the phone, which is totally, totally rude and very, very annoying.
My feeling is that the ushers should usher those people out of the theater immediately.
They try not to because that then disturbs everybody if they have to get up and move at all.
I'm sorry, but I think we have to do that.
Not everybody's a Patti LuPone who will stop the show and rail at the person, but it's very, very annoying.
I was at Little Jam down at the Irish Rep and a woman's radio went off.
She was in the first row and she kept saying, "No, no, not me."
It kept going on and on and on.
She was in the first row in a small theater.
It was so disruptive to the poor actors.
Finally, a man just got so mad, he grabbed her purse and left the theater.
It was her radio.
Then he came and he gave her the bag back.
But those things happen.
It's unfortunate.
But if everybody makes an effort not for it to happen now, it's less likely.
Deneen: One of the first things that you were talking about, Pat, was how you can't really be successful on Broadway if you don't have connections.
So anyone who's ever heard Alycia speak about you, knows she came back to speak about you.
She always calls you her fairy godmother.
Can you tell me how the two of you met?
Pat: Gee, I'm not sure.
I know it's been a long time.
I'm not sure how we met.
Ask Alycia how we met.
She has the most exacting memory for every little detail.
I'm not good at that.
I'm sorry.
I don't remember, honestly.
If I think about it and I'll remember, but at the moment I don't.
Deneen: I didn't mean to give you a trick question.
I apologize for that.
Pat: I give myself trick questions all the time!
HONING YOUR SPECIFIC CRAFT FOR BROADWAY
Deneen: Would you be able to go a little more in depth on what you talked about a few minutes ago?
You mentioned that if you have a gift or a passion for this, it's really important to work on your craft.
Can you recommend ways for people to work on their craft if they want to get onto Broadway?
Pat: One thing: lessons in more or less a sense.
If you don't have the money for lessons, but you are gifted, go to your local school and see if you can get a scholarship.
They often give scholarships to outstanding people.
If you're going to go to a theater program in a college, go for the best one you can possibly get into.
Don't try and go to a local little college because the friends and the connections that you made at college are lifelong.
They'll be the ones that will use you particularly at the beginning because they know how to work with you, and it's very important that you do that.
I just found out an interesting thing.
I went to see a wonderful show at Ars Nova.
If it could become the number one hit, that would be great; it's so wonderful.
Johnny was my Ralphie in A Christmas Story and now he's all grown up.
He was in this show, and that's why I went to see it.
Now the two guys who wrote it are extremely talented, but they also decided to act in it.
One of them directed it, and that's absolutely verboten because you can't get any vision of what's going on.
If you're on the stage, you need to be back and be introspective about everything.
It's very important that you do that.
They have to make up their minds on whether they want to be composers, actors, or directors, because they're very gifted composers.
This has a very exciting chance to be a hit and needs to go through many, many different manifestations.
I hope it can get to a thing that's up to a good speed where they workshop new plays, but all plays and musicals have to be work-shopped.
You can't just write a play and think you're going to put it up on Broadway.
That's not the way it works.
It has to have many, many different routes to go.
It's very hard to get a theater on Broadway unless you're a bonafide producer.
It's almost impossible.
So thinking that you can just write a wonderful musical or play and just go to Broadway is pipe dreaming.
There's a new show out there called Moulin Rouge that is absolutely gorgeous and fabulous.
It's not much of a musical really.
It's a spectacle, and it's worth seeing as a spectacle.
But the show clearly costs about 30 million to produce.
I don't know if they'll ever get their money back, but if they do get their money back, it's going to be a least two or three years.
But it's stunning.
It's exciting.
There are other shows that are much less expensive when you have a two-character play, or a Betrayal, with three-characters.
Very interesting.
This is a very interesting show.
Directed, very stylized and very different, but you could hear all the words, and the words are what are important.
One of the things that really annoys me is when you go to the theater and you can't hear, or you can't understand.
There's no excuse, because sound design is so sophisticated today that they can fix everything.
That's another career that people should think about, sound design.
Also costume design, or scene design.
There's a lot more opportunities today for women than ever before.
So ladies, think about it.
What can you do behind the scenes?
Another job, which is for men, women, or anybody willing to do it, is the hardest job in the entire theater industry: stage manager.
I can't understand why anybody wants to be a stage manager, but a lot of people do.
It's tough.
You have to do whatever.
Anyone else, when they go home, they are finished.
But you first have to work.
You have to make sure everybody is everywhere when they're supposed to be.
Plus the fact that when the show is running, you have to keep track of every word that is said on that stage and note every distraction, mistake, et cetera.
Usually as time goes on, the stage manager has to rehearse the understudy, and then he puts in.
So the stage manager has a lot to do.
That's why they usually have two stage managers.
One is the production stage manager.
So when you see PSN, that stands for Production Stage Manager.
But it's a tough job that people love to do.
Don't ask me, I don't want to do that.
Deneen: I can't imagine having to do that.
The way I heard it was basically you're herding creatives.
Creative people, sometimes they listen and sometimes they don't.
So that doesn't sound like a job I would be up for either Pat, but thank God that there are people in the world who love doing those types of jobs. Right?
SHOW BUSINESS IS STILL A BUSINESS
Pat: Right. Exactly.
If you have the skill for it, that's great.
We need them.
There are all kinds of jobs in theater that you can do.
One of the new things now is they do a thing where it's analytical with pricing.
It's called dynamic pricing, and they figure out what prices they should charge.
So the pricing can change from day to day, or hour to hour.
If they see that they have a lot of $39 seats, they may just make the last row special tonight, a $29 last row.
If they see that the $149 seats, the premium seats, are doing really well on the first row, they might add the second row premium seats that night.
They'll keep within the budget so they don't drive all the ticket sales crazy.
But within that, they'll just change the configuration.
That's a new thing.
It's called dynamic pricing.
Not everybody uses it, but some people do.
There's lots of jobs.
You have to have a marketing person.
Now social networking is very big.
It comes under analytics.
I think a lot of social marketing is BS.
Not social networking is BS, but marketing and social networking.
It's hard finding your audience, and that's a thing that you must do.
Try to figure out where your audience is, because it makes it easier if you can hone in on an audience.
But then again, what if your marketing people don't know how to hone in on them?
I had an example with Dinner With the Boys. 
I wanted to get the soprano audience, and they never knew how to market to the soprano audience.
So that depends upon your team.
Deneen: I think a lot of people, when they think about Broadway, don't think about the big picture. 
They just think about the actors on the stage.
I can guarantee you that 90% of my audience, when they hear this part of our conversation, will say "It never even occurred to me that you have to do all these different parts of Broadway."
Broadway is not only theater, producing art, and giving art to the world, but it's also a business.
And that's something that a lot of people who get into the entertainment industry kind of forget.
Pat: That's why it's called show business.
It's a business.
Deneen: Yup. Exactly.
Pat: And a lot of creative people don't think.
First of all, if you look at the numbers, there are 41 Broadway theaters, just 41 of them.
There are some shows that have been playing for years and years.
Like Phantom of the Opera. 
It's been playing for what, 25 years?
We have Book of Mormon that's been playing for a very long time.
You have Wicked that has been playing for a very long time.
So those theaters are booked.
You can't get into them until those shows are finally closed.
You have about 35 possibilities of shows and they're going to give it to the leading producers or the leading stars.
Patti LuPone is coming in with Company from London.
Well, for whoever's producing that, will get it because it's Patti LuPone and it's Brent.
She's branded, and Company is branded; it's Olivier in London.
They're going to get a theater.
So it's very hard.
There are only four people who own Broadway theaters, and there's the big three.
The chances of getting a theater is very slim.
Just getting any theater is slim unless you want something that's way off of Broadway.
But what if I gave a party and nobody came?
People have to know that you have a show; it has to show up based on what theater it is, and that costs money to advertise.
An advertisement costs the same amount of money if it's for Book of Mormon or whether it's advertising for Joe Doakes.
That space costs the same amount of money.
Anyway, I hope I'm not being too negative.
*Laughs* 
You can do theater all over the country, all over the world.
And it's wonderful.
Bringing live theater and doing theater for kids is fabulous too.
So don't just cut your life off saying, "Oh, Broadway or nothing."
I'm just telling you how difficult Broadway is, but it's not important.
The important thing is to get your work up there, out there, whenever.
Deneen: No, I don't think you're being negative at all, Pat.
Honestly, I think that people need to hear the truth because again, people want to see their name on the marquee, but there's so much that goes behind beyond it.
I love that you not only were talking about the actors, but you focused on the big picture.
There's so many opportunities, but like you said, the most important thing is to get your work out there.
No matter whether it's on Broadway or off Broadway, or in Dubuque, Iowa.
Get your work out there, and that's how you're going to progress.
You've given us so many amazing points and so much to think about.
I hope that everyone who listens to this podcast listens to it more than once because you definitely gave a lot of talking points that people will have to really have to think about.
Especially if it's someone who wants to do theater as in the broad sense; not just Broadway, but theater in general.
Thank you so much for that, Pat. I really appreciate it.
Pat: Oh, I'm so glad, and I hope I've inspired people.
I really want to inspire people.
There are some wonderful success stories like Justin and Benj, who we put on the map with A Christmas Story.
They've had a meteoric success between Lala Land and Dear Evan Hansen, and they are so gifted and fabulous.
They've made it to the top already and before they were 30, so it does happen.
It does happen.
They're the unusual ones.
Most of the people don't make it like that.
Deneen: It's like you said multiple times, it's a really hard business and you have to love what you're doing.
The most important thing is to put yourself out there, because if they had to put themselves out there in A Christmas Story, they wouldn't be where they are.
If they hadn't been given the opportunity, they wouldn't be where they are.
The overarching theme is that you need to put yourself out there; you need to get your work out there and then just keep working hard.
It's a lot of hard work because the entertainment business is very hard, but it's also one of the most gratifying businesses in the world.
Pat: That's true.
Deneen: I think you've inspired a lot of people today.
I truly believe that you've inspired a lot of people to take action, because that's one of the things I want to do on the podcast.
It's why I was so excited to have you on the podcast, because I want people to listen and then I want them to take action.
You can gather all of the knowledge in the world, but if you don't act on it, then what's the point of gathering the knowledge?
I think you gave a lot of action points today and I really appreciate that.
Pat: I hope I hear from a lot of people that you've gotten up in the morning and gone out to do your stuff and be successful.
Thanks a lot.
Deneen: If you are one of those people, make sure that you use the hashtag #PatAddiss so that she can see that she's inspired you.
So, Pat, thank you so much for your time today.
I really appreciate it.
I really appreciate your time and I really appreciate all of the insights that you've given us.
Pat: Thanks.
And good luck to you all.
Success!
Deneen: Thanks Pat.
I hope that everyone enjoyed my conversation today with Pat Addiss.
If you did, make sure that you subscribe to the VIP Ignite Live podcast because I have a lot of more amazing guests coming up just like Pat.
If you are interested in learning how to become an actor, model, or musician, and you would love the opportunity to network with people like Pat Addiss, please make sure you go to our website, ammsociety.com, where you can get registered for our next live webinar.
Thank you so much and have a great day!